The Pike Central High School Varsity Soccer Team plays Princeton High School in the first game of the Sectional Tournament on Monday, October 4, 2021 at 7:30 p.m. at the Gwaltney Sports Complex, Washington, IN 47501. Pike Central has an overall record of 9-7-1 with a 6-5 record placing 6th in the Indiana Pocket Athletic Conference. Princeton has an overall record of 7-7-1 with a record of 4-7 record placing 8th in the Pocket Athletic Conference. On September 4, 2021, the Chargers defeated the home team Tigers in a competitive 1-0 victory. Joey Ridao (Jr) scored in the second half from an assist from Jonas Martinez (So) securing the victory in a hard fought battle. This was Goalkeeper Peyton Howald's third of five shutout of the season. Both teams go into the contest with a 2 game winning streak. Monday's game should be a highly competitive contest between two athletic and skilled teams. The expectation for the game is an excitingly close and physical battle decided by one or two big plays. "These games with Princeton are always close, and we expect the same on Monday. We hope that we can get Pike Central supporters to attend the game to help the team push through for a victory against a tough Princeton team," Coach Jacob Western stated. The winner of the game goes on to face either favored Washington Hatchets (9-6-1) or the underdog Southridge Raiders (1-14).

Enjoying Spirit Week! Here are a few of the students who participated in Decade Day. Looks like the 70's and 80's were most popular!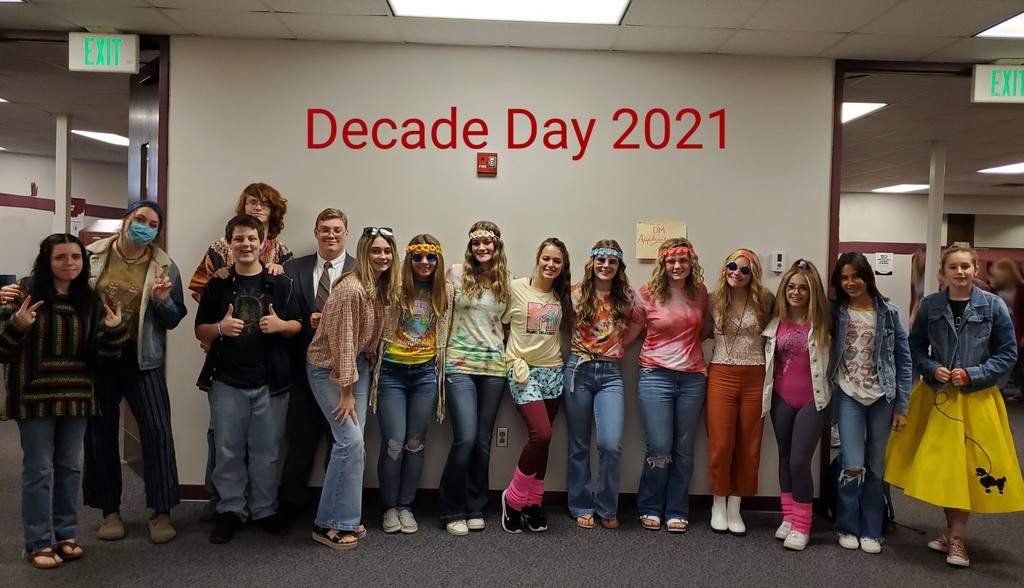 Daily Bulletin Tuesday, September 21st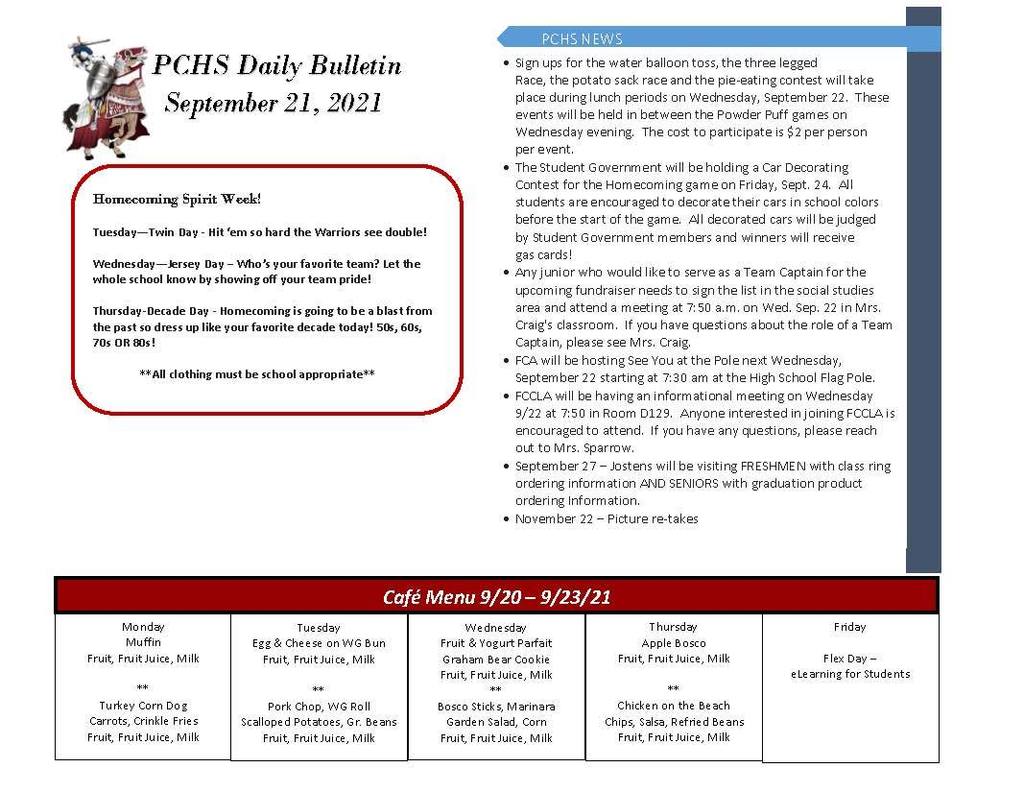 Daily Bulletin Monday, Sept. 20th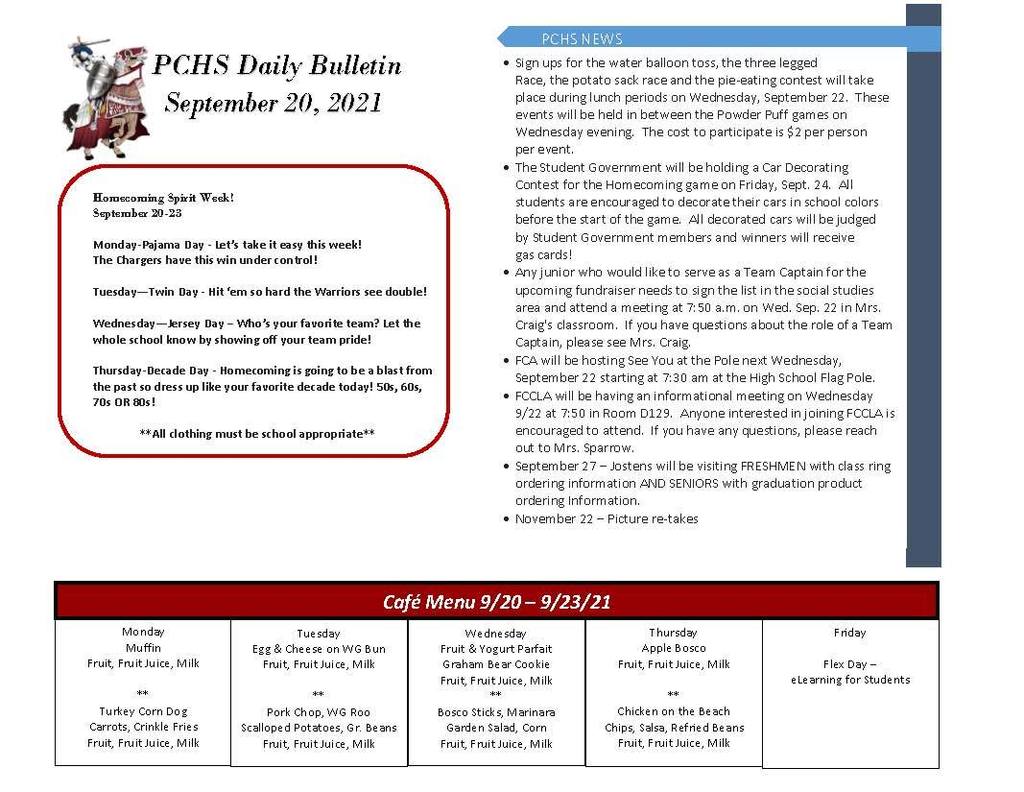 Mrs. Sparrow's Human and Social Services class have been making Lollipop Moments to hand students and staff to encourage them that anyone can be a leader. Great job!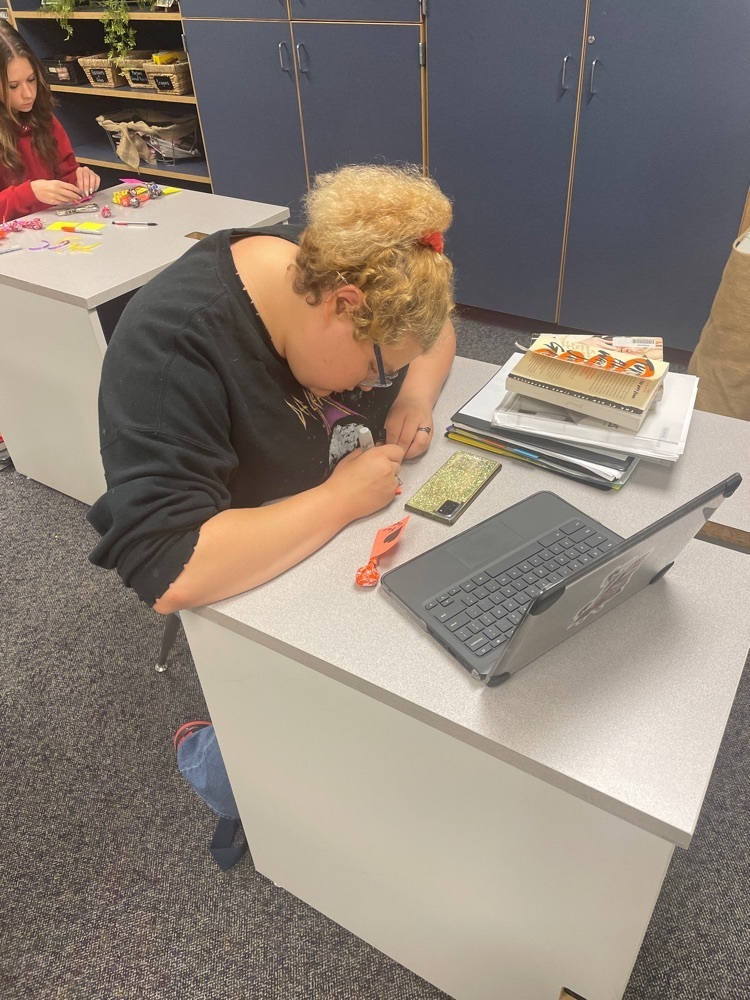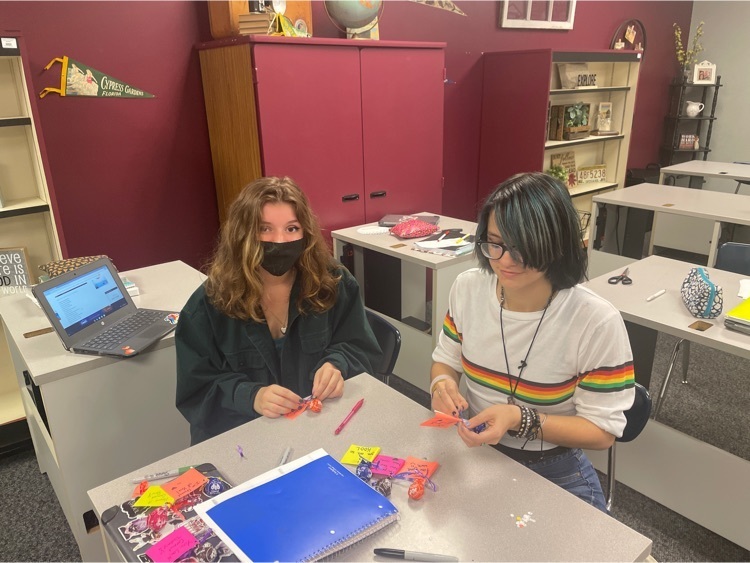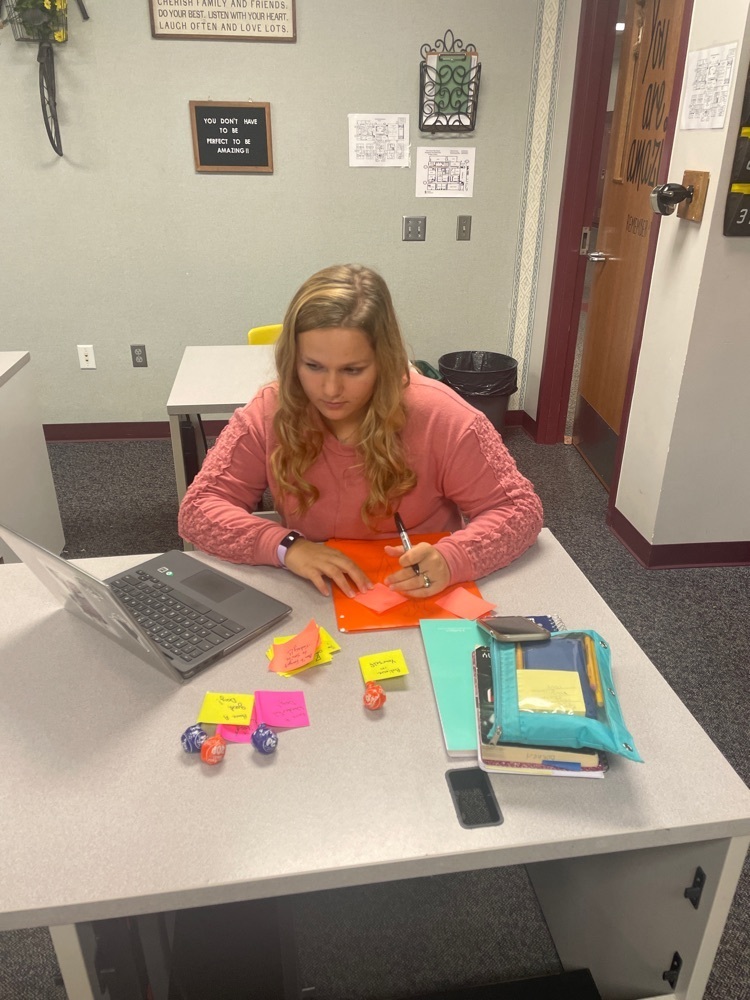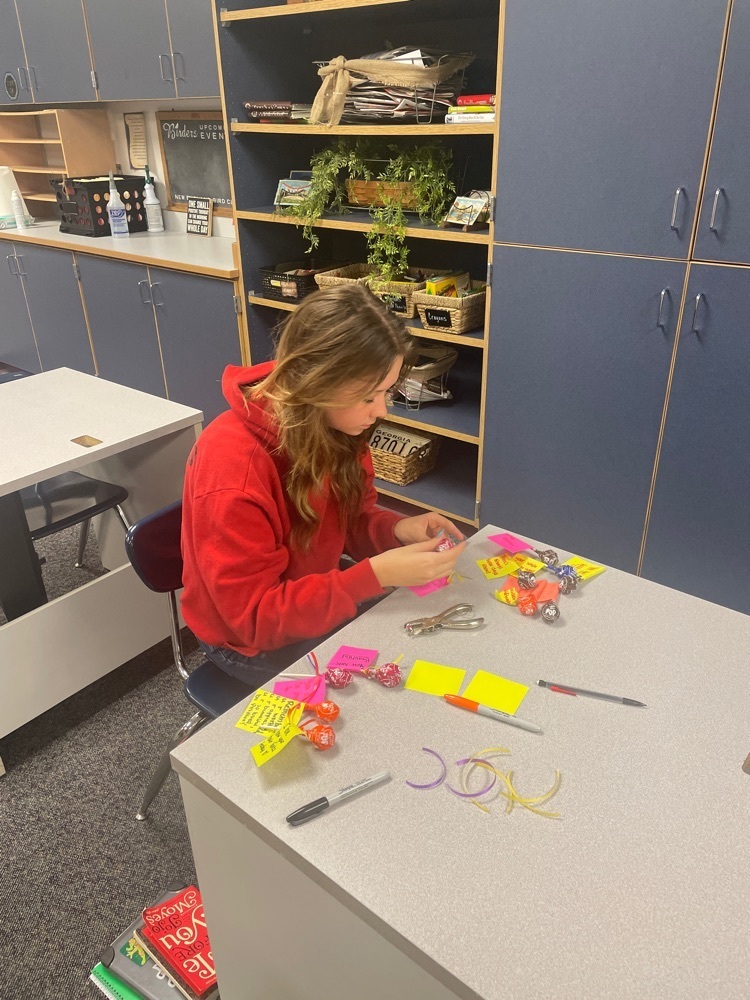 Homecoming Spirit Week! September 20-23 Monday-Pajama Day - Let's take it easy this week! The Chargers have this win under control! Tuesday—Twin Day Hit 'em so hard the Warriors see double! Wednesday—Jersey Day Who's your favorite team? Let the whole school know by showing off your team pride! Thursday-Decade Day Homecoming is going to be a blast from the past so dress up like your favorite decade today! 50s, 60s, 70s OR 80s! **All clothing must be school appropriate**

Daily Bulletin Friday, Sept. 17th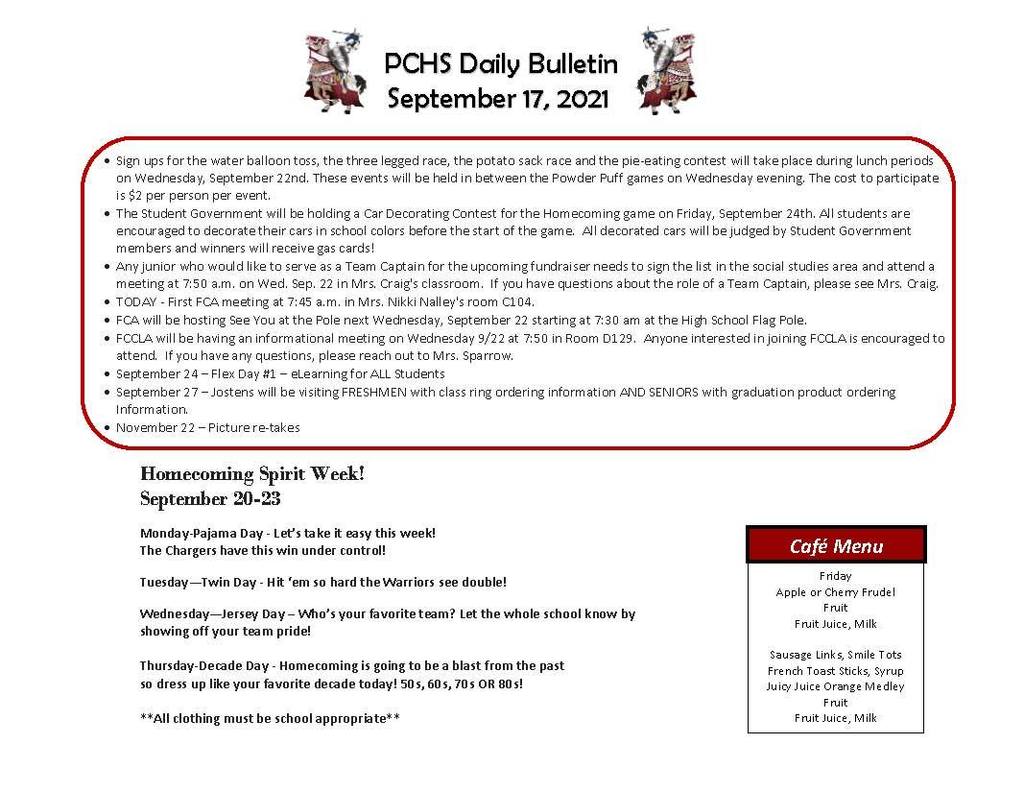 Daily Bulletin Thursday, August 16th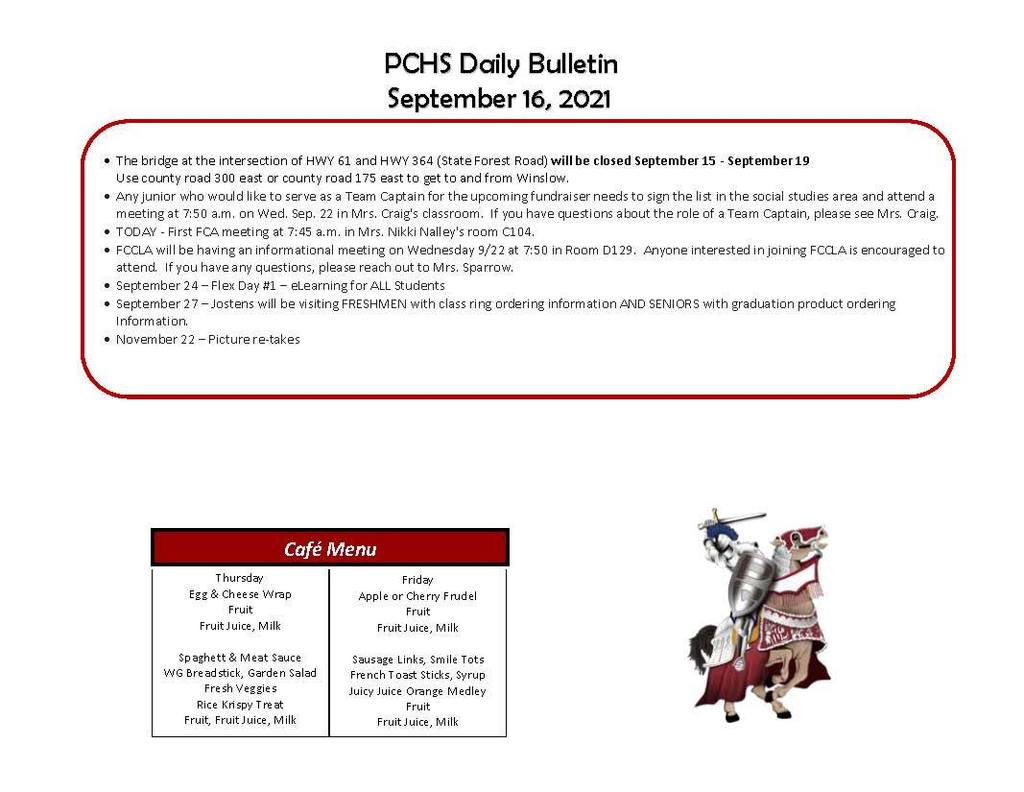 Daily Bulletin Wednesday, Sept. 15th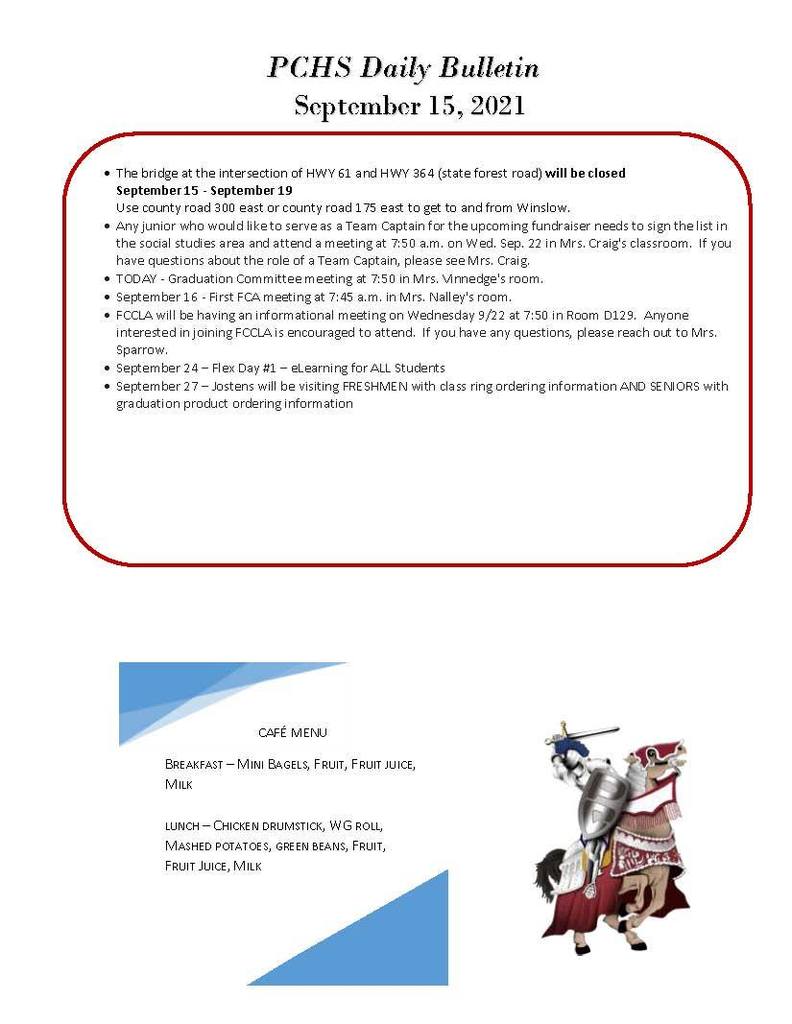 Daily Bulletin Tuesday, September 14th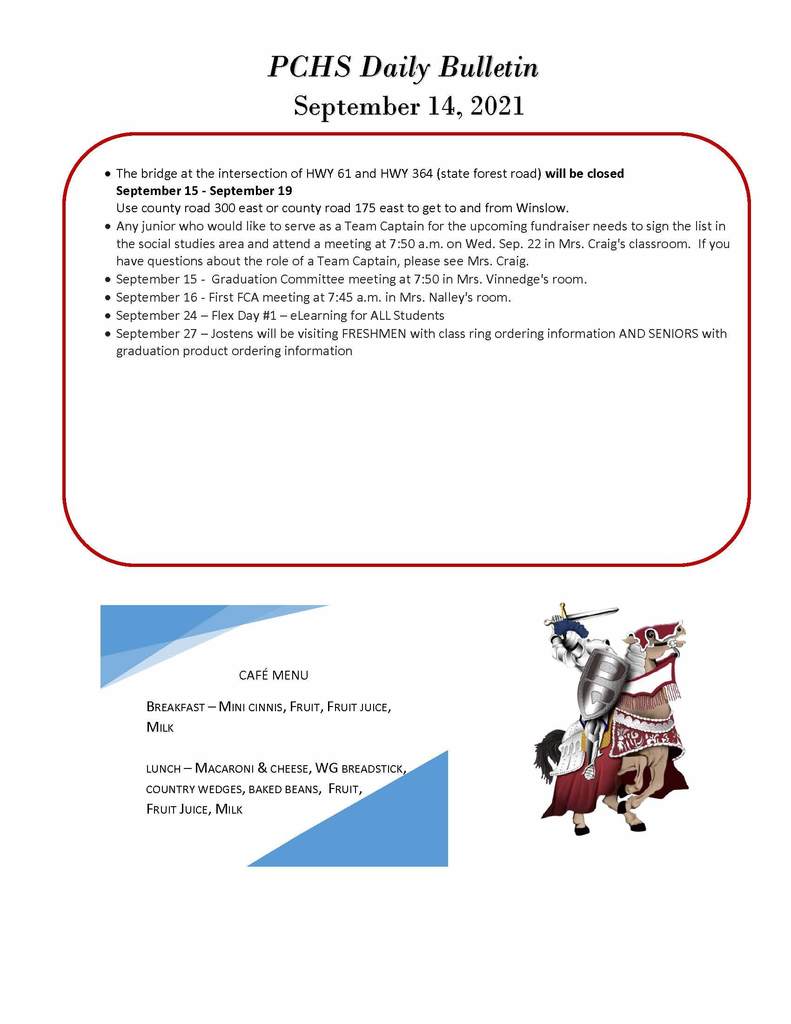 Daily Bulletin Monday, September 13th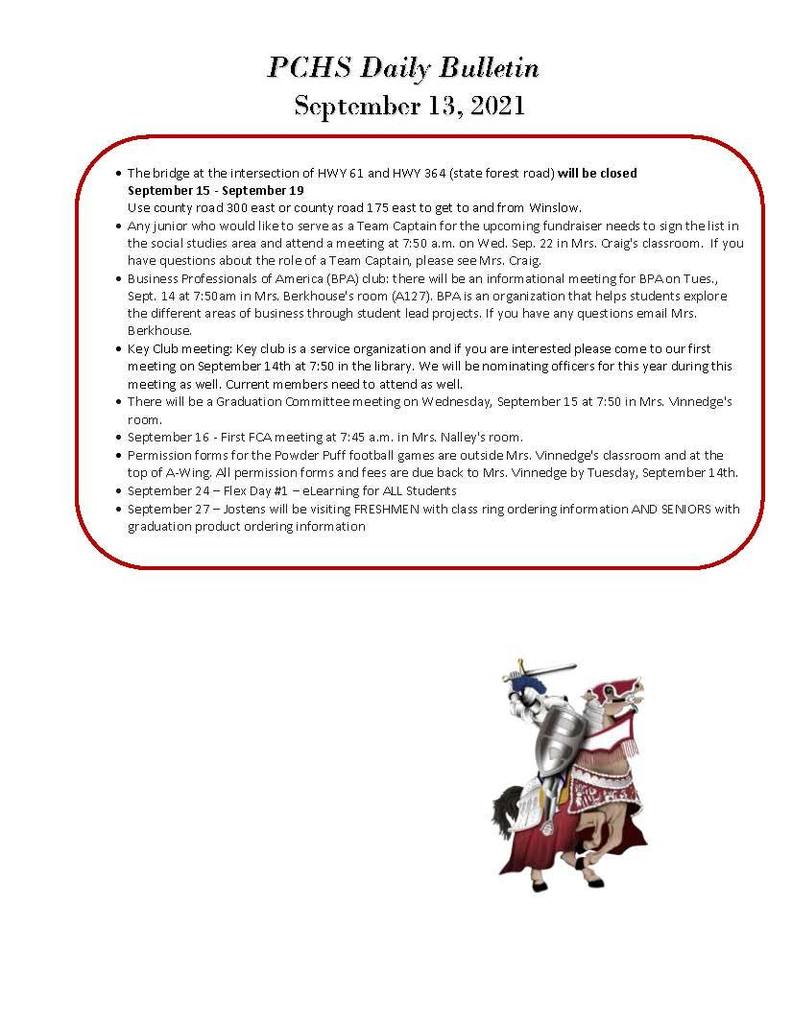 Daily Bulletin Friday, September 10th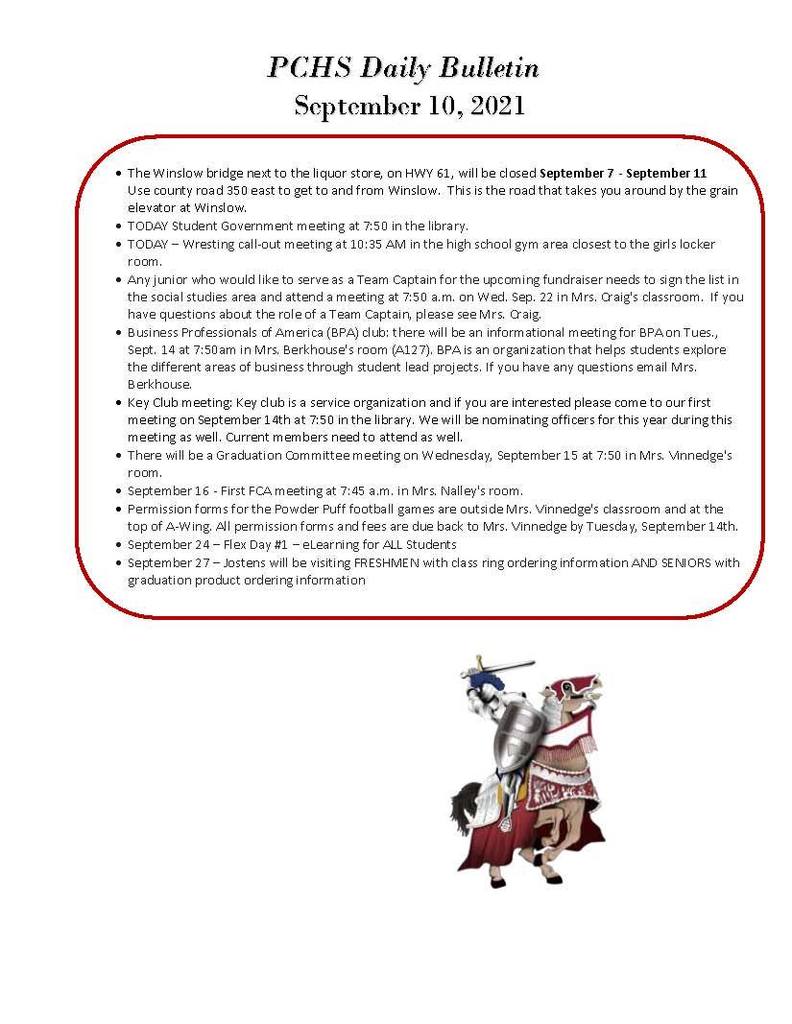 Daily Bulletin Thursday, Sept. 9th

Daily Bulletin Wednesday, September 8th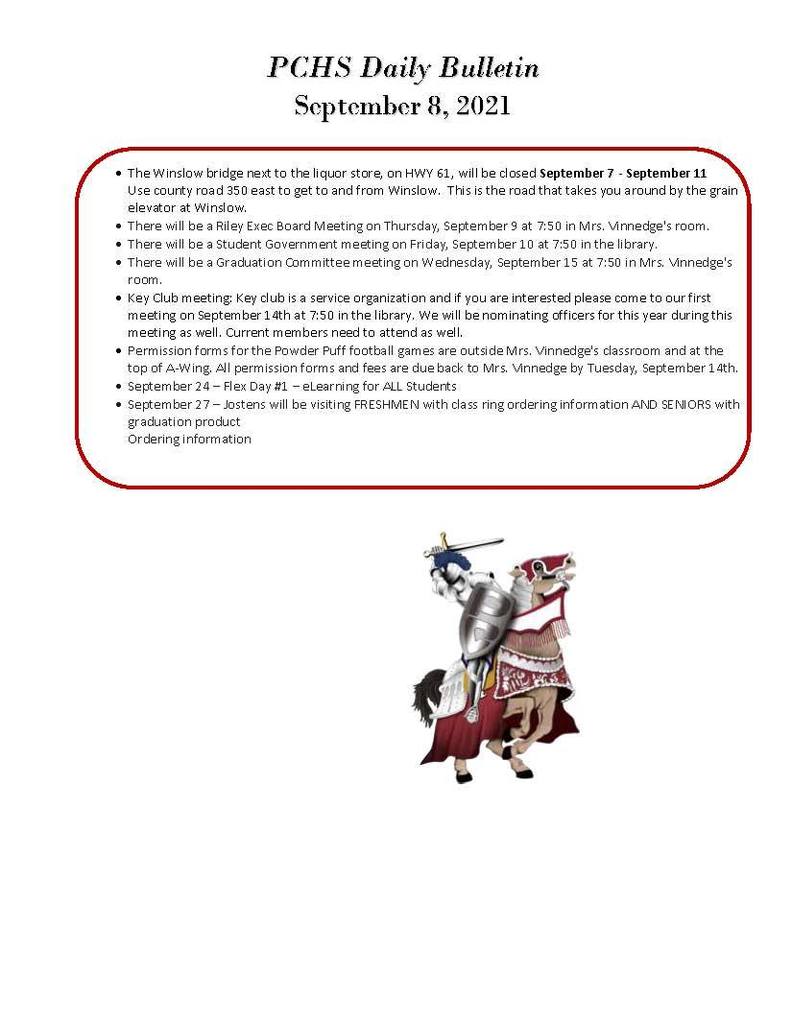 Daily Bulletin Thursday, September 2nd

Daily Bulletin Wednesday, Sept. 1st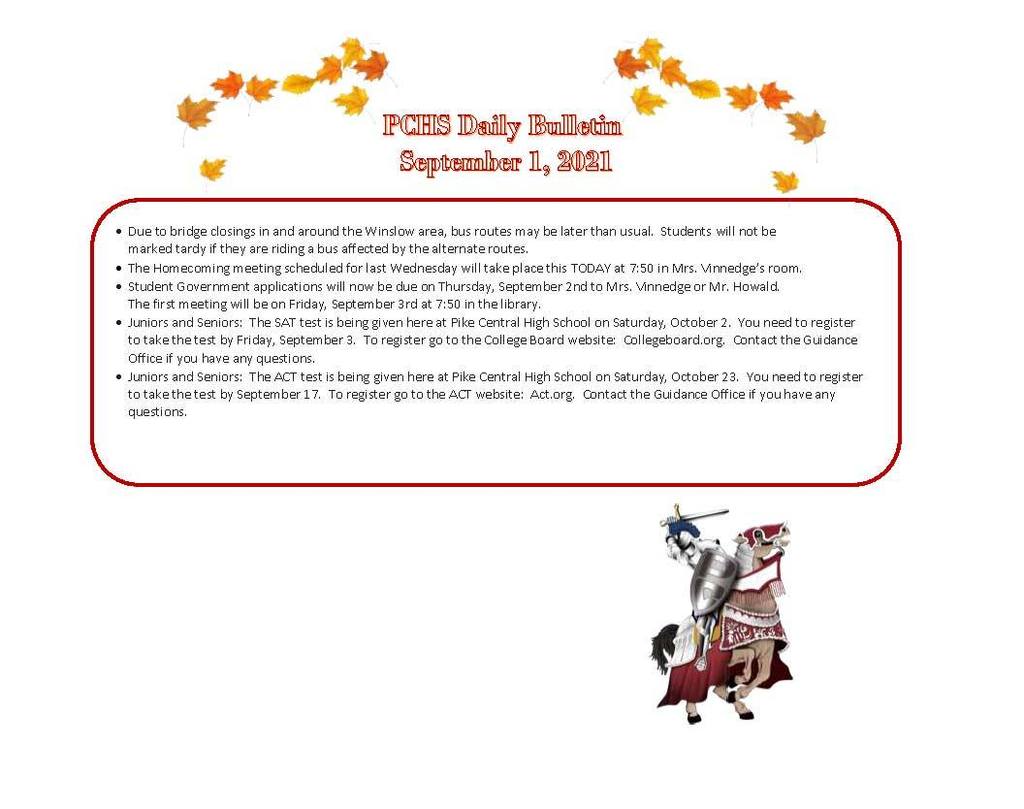 Daily Bulletin Tuesday, August 31st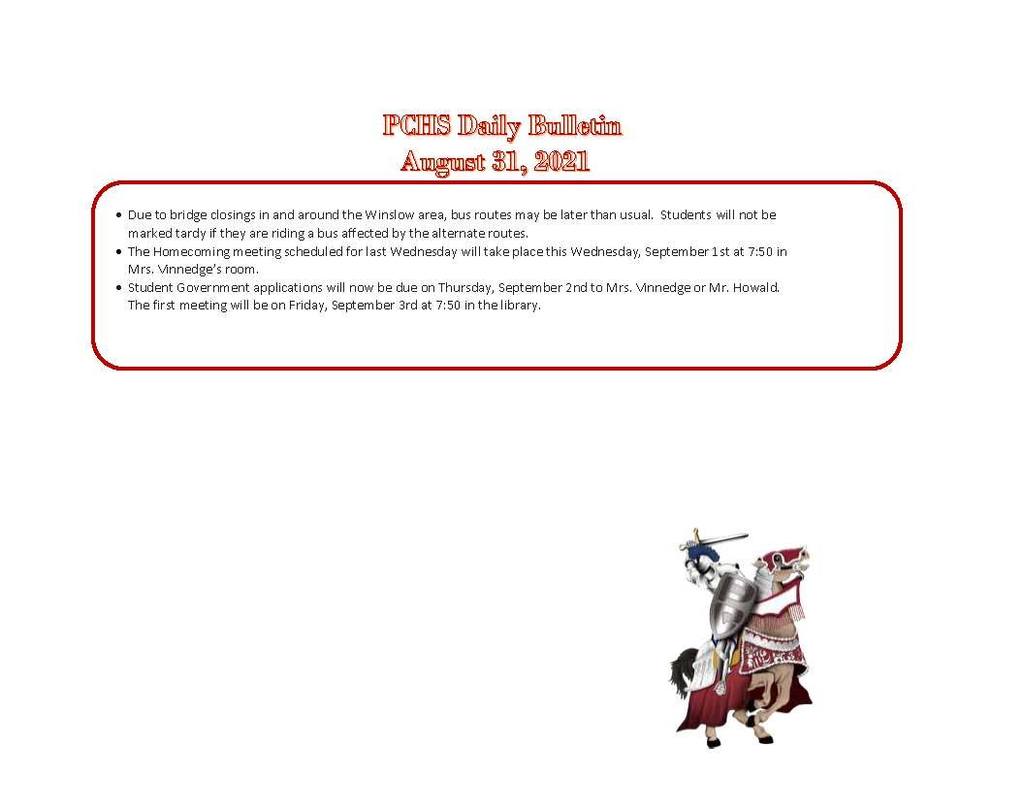 Daily Bulletin Monday, August 30th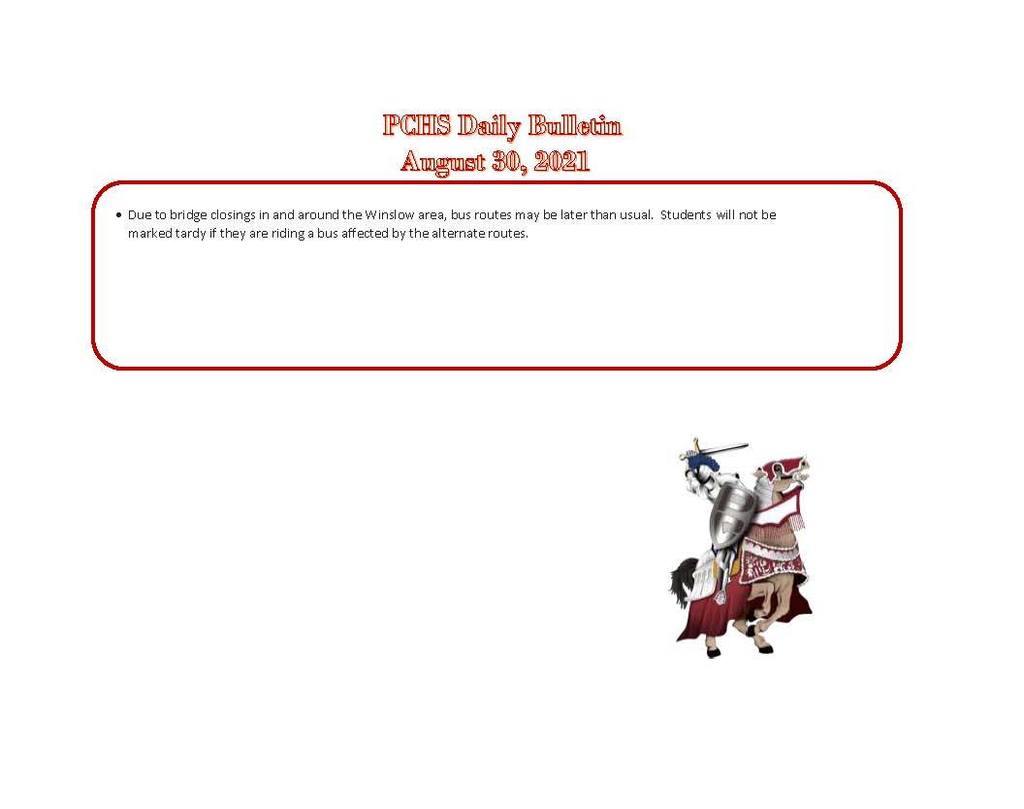 Effective Monday, Aug 30, masks will be required at all schools in the Pike County School Corporation for the next two weeks. This applies to all staff, students, and visitors regardless of vaccination or immunity status. Face shields, gators or masks are acceptable as they were last year. Masks will not be worn when students are physically active, such as during recess, PE or athletic practices or events. By issuing the mask requirement, this will also allow us to conduct contact tracing at 3 ft during times that masks are worn. When masks are not worn, contact tracing will remain at a distance of 6 ft. This adjustment should reduce the number of individuals that will be quarantined and increase the number of students able to remain in the classroom. We will continue to monitor our data and review options that will best serve our students and staff during the coming weeks.